Skip to Content
Education to Become an Electrician
Getting your license and gaining valuable expertise and skills are essential elements that every electrician must earn. Maine Electrical Institute helps students transform their ambitions into professional careers as quickly as possible with our Maine & New Hampshire approved coursework delivered using instruction options best suited for them. Our talented instructors provide the necessary training and insight to build your knowledge and skill set. You are welcome to review our catalog to learn more about the courses we offer.
Find the Right Avenue for Your Coursework
Maine Electrical Institute has educational opportunities to help students get the training and information they need. Whether a student requires a full program, or they just need a class or two to fulfill their training requirements, we have real-world options to earn a license and get to work as an electrician. Our academic options include the following:
Our start-to-finish programs are perfect for students interested in becoming electricians. We offer three instruction types to help you earn your residential license or progress to your full journeyman license. Your instruction choices include in-class learning with labs, livestreaming, and self-paced learning. In-class learning takes two years to complete while attending one day a week, either from 8am-1:30pm or from 2:30-7:30pm, from September through June. Classes offered via livestream can be taken from anywhere in the state at the same time of day as our in-class options, and provide education with real-time lessons. If you have good self-discipline, reading retention, and comprehension, and you have worked in the field as an electrician's helper, then self-paced learning may be an excellent route for you.
If you only need a few courses to complete your training and get your license, we offer individual course opportunities. We also have Career Enrichment Workshops for you to gain additional skills and insight into the electrical field. Our individual courses are available either via self-paced correspondence, or in person…depending on the course. You can join your classmates and instructor in-person and take part in valuable lessons and labs; or with self-paced correspondence learning, you lead yourself through coursework without interacting with the instructor. Whichever method of learning works best for you, we provide up-to-date training and information to ensure you are ready to work as an electrician.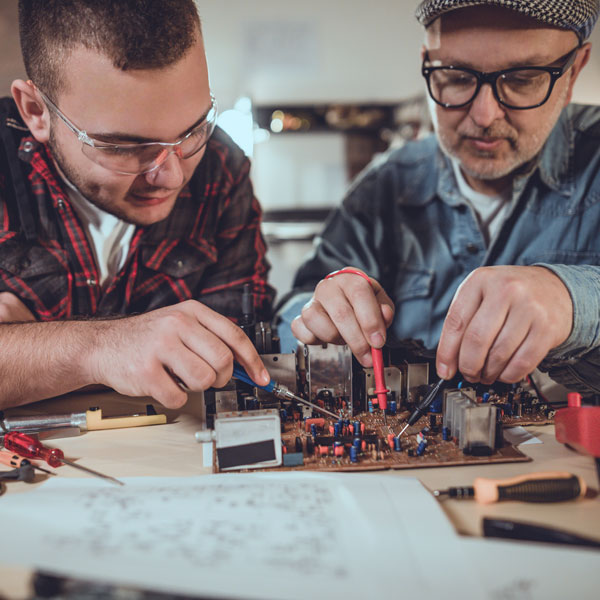 We're Ready to Train You for Success
Maine Electrical Institute has a proud history of training students to succeed as electricians in Portland, ME and online. Let us help you earn your license and start your career as a residential or journeyman electrician.
The Fastest Way to Get Your Schooling!