Skip to Content
Advanced Industrial Controls in Portland, ME
We Offer an Advanced Industrial Controls Course
Maine Electrical Institute helps you expand your knowledge as an electrician with our course in Advanced Industrial Controls – VFD's and Motor Controls. This is a 45-hour, trade-related course covering the essential skills and knowledge you will use as a professional in the trade. The course offers ample hands-on training through labs as we teach students to wire and troubleshoot fault conditions in variable-frequency drives (VFDs), motors, and motor controls. Students will gain and demonstrate proficiency in various related tasks through our curriculum, including troubleshooting faults, repairing them, and measuring and testing components found within VFD's and motor controls. A central theme to the course is setting up, operating, and controlling VFD's. Students are required to be physically present in the classroom during this instructor-led program. Your attendance is necessary to participate in the labs and pass all the exams. After completing this course, you will have gained vital skills and expertise as an electrician to provide valuable professional services on VFDs, motors, and their controls.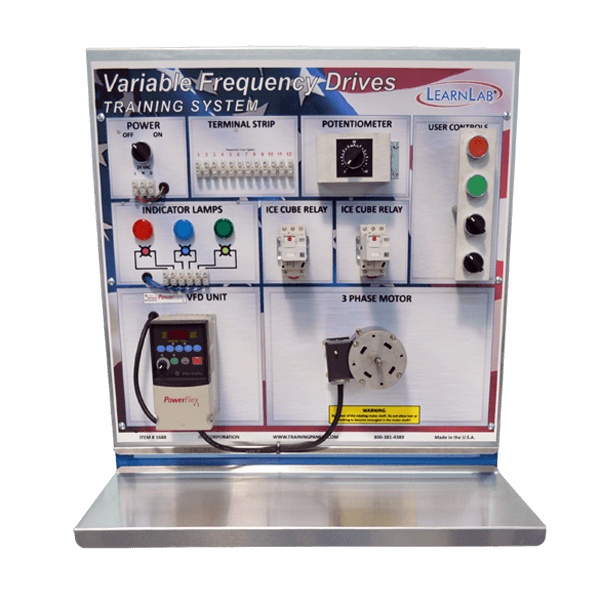 The Necessary Steps to Successful Completion
To complete this course and get credit toward your training, you must achieve three things. The first is to read all required assignments by the established completion date. The second is to attend the required classes and complete all the necessary labs. Finally, you must perform all proficiency exams with the instructor present. Finishing all these requirements earns you valuable electrical skills and puts you closer to earning your license.
Required Materials & Prerequisites for This Course
When taking Advanced Industrial Controls as part of your training as an electrician, we require prior completion of several courses before you can successfully register. Many students enroll at Maine Electrical Institute who only need a few courses to complete their education and earn their license. We take our students' training seriously, which entails them fulfilling prerequisites giving them the foundational knowledge needed to understand the material of this course and apply their training in the labs and exams. We also require students to use certain materials covering the relevant information our instructors will teach during the course. Students will use these learning resources to guide them through various sections of the course, during the labs, and to study for exams. Please review the following materials and prerequisites to understand our requirements for Advanced Industrial Controls:
Required Materials (provided by MEI)
Learn Lab – Electrical Control Training Board and teacher-provided curriculum
Learn Lab – Variable Frequency Drive Training Board and teacher-provided curriculum
Prerequisites
Basic Electricity I
Basic Electricity II
Controls I
Controls II
Motors
The Fastest Way to Get Your Schooling!